AMHVet - did you know??
| Apr 17, 2018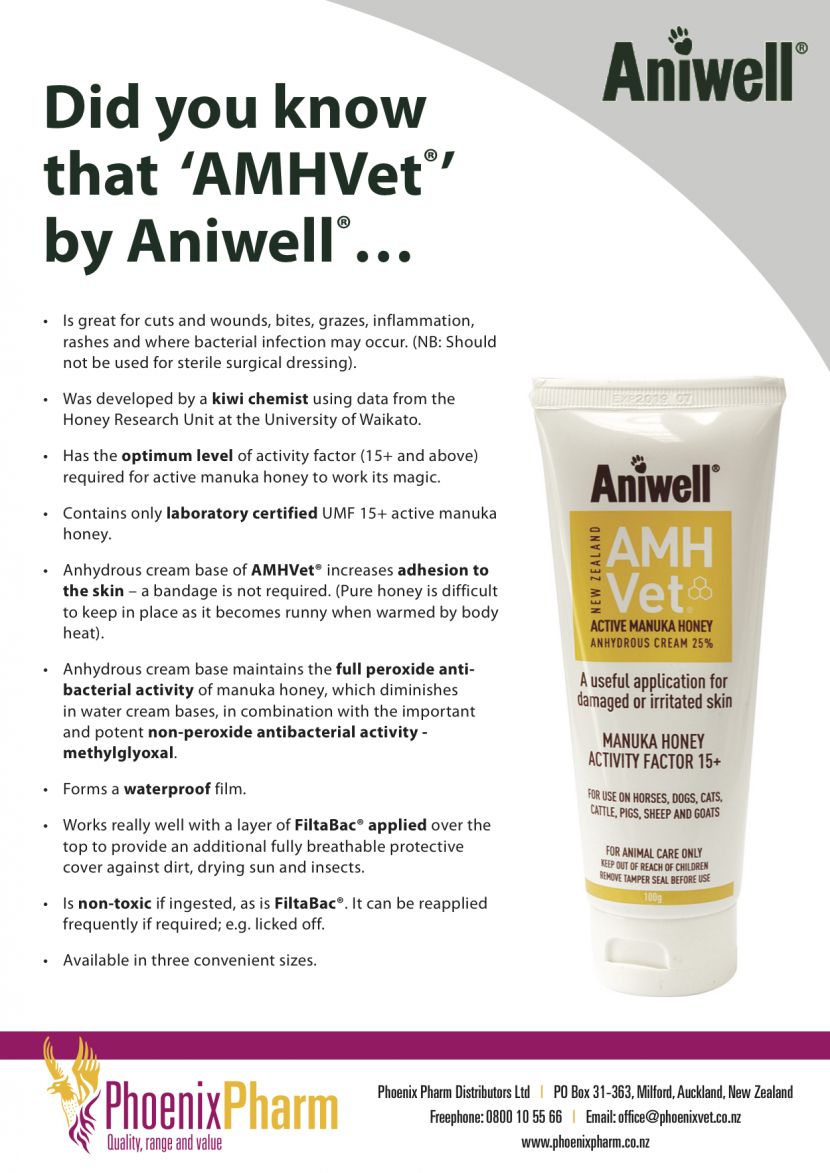 PhoenixPharm the NZ distributor of Aniwell's products have been putting together fact sheets.
You should be seeing these fact sheets tacked up at your local Vet Clinic, Equine or Pet store next to the Aniwell products.
DID YOU KNOW THAT AMHVet by ANIWELL........
Is great for cuts and wounds, bites, grazes, inflammation, rashes and where bacterial infection may occur. (NB: Should not be used for sterile surgical dressing).
Was developed by a kiwi chemist using data from the Honey Research Unit at the University of Waikato.
Has the optimum level of activity factor (15+ and above) required for active manuka honey to work its magic.
Contains only laboratory certified UMF 15+ active manuka honey.
Anhydrous cream base of AMHVet® increases adhesion to the skin – a bandage is not required. (Pure honey is difficult to keep in place as it becomes runny when warmed by body heat).
Anhydrous cream base maintains the full peroxide anti- bacterial activity of manuka honey, which diminishes
in water cream bases, in combination with the important and potent non-peroxide antibacterial activity - methylglyoxal.
Forms a waterproof film.
Works really well with a layer of FiltaBac® applied over the top to provide an additional fully breatheable protective cover against dirt, drying sun and insects.
Is non-toxic if ingested, as is FiltaBac®! It can be reapplied frequently if required; e.g. licked off.
Available in three convenient sizes - 50g & 100g tubes + a 500g pot.