Active Manuka Honey Vet Customer Story
| Dec 14, 2016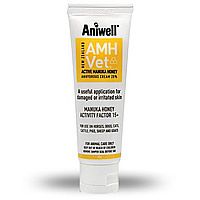 ACTIVE MANUKA HONEY VET
23.12.2013
I just wanted to let you know how impressed I am with the above product.
My 3 year old miniature poodle (Tilly) has been troubled by a skin infection for about 12 months. It's a staph infection and is caused by her constant scratching and biting at her skin which is obviously itching. Every flare up has been treated with antibiotics and steroids but as soon as she finishes the course we are back to square one. Following skin tests she has been diagnosed with a range of allergies e.g. Pollen, dust mites, mould etc. A course of de-sensitising vaccinations has been recommended but whilst they are being made up Tilly can't have any medication for obvious reasons.
I tried desperately to think of something to ease her itches and inflammation. Earlier this year I had a hip replacement operation and a manuka honey dressing was used to help heal my wound. I researched manuka in detail to learn about the equivalent medical strengths for animals and decided to send for your Active Manuka Honey Vet. I was amazed with the speed of improvement in Tilly's skin. The product had arrived when I got in from work at about 6pm. I applied it straight away and within 4 hours the was a definite improvement. The following morning, and this isn't an exaggeration, the inflammation had all but disappeared. I couldn't believe my eyes. I'm still using the Active Manuka Honey Vet ( I guess we've been using it for about 10 days) and although Tilly still scratches, she is obviously a lot more comfortable than previously and the infection has completely cleared up. It is fantastic that a natural product can achieve such results. Thank you so much from Jo B and Tilly.
Thanks for your response. Tilly had her first vaccination today but we will continue to use the Active Manuka Honey Vet as necessary. Once again I can't thank you enough. Please feel free to come back to me at any time if I can help in any to promote etc.
Joanne Bickley, UK.